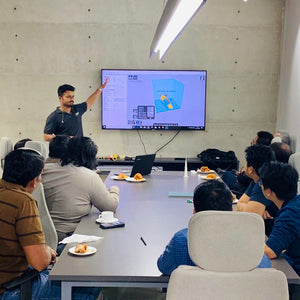 Most 3D Printers are Plug & Play. Any person who can operate a computer can operate a 3D Printer. Getting started videos & self-help tutorials are available for the same. However, there is definitely a learning curve involved for proficiency.


This Training & Installation is ideal for organizations to rapidly train their technical workforce on 3D Printing. Basics concepts of Design for Additive Manufacturing would be a pre-requisite. Clubbing this service along with the procurement of a 3D Printer is an excellent choice.
Available as 2 options.


Level 1

2-3 Hour Session
Up to 5 Trainees
General Intro to 3D Printing
Showing the general Operations of the 3D Printer

Basic of Slicing Software




- Layer Resolution




- Bed Adhesion - Brim & Rafts




- Support Structure Generation




- Temperatures for Various Materials



Provide and Configure the Printing Profiles(If Applicable)
3D Print a Sample/Demo in the printer(If Applicable)
Assist you with your 1st Print

Basic Troubleshooting

Do's & Dont's
Maintenance of the 3D Printer
Level 2
4-6 Hour Session
Up to 10 Trainees
General Intro to 3D Printing
Print Parameters

Basic of Slicing Software


- Layer Resolution
- Bed Adhesion - Brim & Rafts
- Support Structure Generation
- Temperatures for Various Materials
- Cooling for Various Materials
- Intro to Simplify3D (if Applicable)
- Intro to Astroprint (if Applicable)
- Dual Extrusion - Design Concepts (if Applicable)
- Dual Extrusion - Slicing Concepts (if Applicable)
Provide and Configure the Printing Profiles(If Applicable)
Intro about DfAM(Design for Additive Manufacturing)
Post Processing
Basic Troubleshooting
Do's & Dont's
Maintenance of the 3D Printer