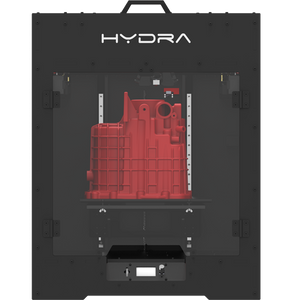 All Hydra 3D Printers are in high demand. 
Orders
require a1-2
 week period to ship out.
The Hydra is the Best-in-Class Professional 3D Printer in its category.
Ideal for Commercial Rapid Prototyping Applications.
300*300*300 cu mm - 0.05 mm to 0.3 mm Layer Resolution - Direct Drive Extruder with E3D V6 Hotend - Silicone Heated Bed - Active Triple Cooling - Completely Enclosed Structure - Reinforced Fiber Chassis - Industry Grade Rails for all 3 axes. (For full product description & spec, click here)
3D Prints in All Materials that melt under 300 °C,
PLA, HIPS, ABS, ASA, PET G, Silk, Nylon, Carbon Fiber, Flexible(TPE, TPU), Color Changing Filament, Marble Fill, Wood Fill Composite, Metal Fill Composites (Brass, Bronze, Aluminium, Gold, Copper). Click here to explore Filaments.
Designed & Manufactured in India.
Includes Complimentary On-Site Training & Installation Package (Within India).
12 Months Warranty & After Sales Support.
Get a complimentary pass to attend one of our 3D Printing workshops.