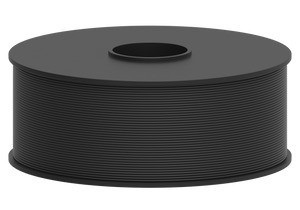 Flexible Filament Characteristics:
Also known as TPU filament.
Printing Temperature: 210 - 230°C
Heated Bed Temperature: 40 - 50°C or turned off.
Harder than TPE, Stronger & Tougher like TPU
Has high tear resistance and elongation.
Tensile Strength : 21 mPa ; Tensile Elongation : 800%
High Precision: Diameter: +/- 0.03 mm, Roundness: +/- 0.02 mm.
Ships in a vacuum-sealed package with desiccants.
The weight is net. i.e. '1 Kg' represents 1 Kg of usable consumable excluding spool & packaging.
Bulk Discounts:
For orders above & in multiples of 12 Kg (1 Carton), Bulk discounts apply. Kindly contact us via the form on the bottom right.
Bulk orders above 100 Kg are subject to availability. Kindly contact us via the "Ask Us" box on the bottom right corner of this page.
Orders will be sent via Surface mode only.

View: Flexible Filament Data Sheet