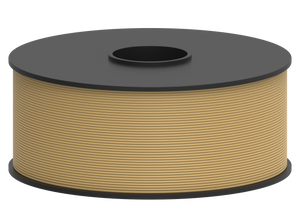 PLA Characteristics: 
The finest blend of "NatureWorks" & "Total" Polylactic granules - Premium Quality filaments.
Printing Temperature: 190-220 °C.
Heated Bed Temperature: ~60 °C or Turned off.
Strong & Stiff PLA.
Adheres well to build surfaces.
Made from Extremely Smooth Corn Starch that doesn't block nozzles.
Low Shrinkage & hence High Thermoforming Dimensional Stability.
High Precision: Diameter: +/- 0.1 mm, Roundness:  +/- 0.05 mm.
Ships in a vacuum-sealed package with desiccants.
The weight is net. i.e. '1 Kg' represents 1 Kg of usable consumable excluding spool & packaging.
Bulk Discounts:
For orders above & in multiples of 12 Kg (1 Carton), Bulk discounts apply. Kindly contact us via the form on the bottom right.
View: PLA Filament Data Sheet